INSPIRATIE
Botanical Wasteland – A world-making practice

Boogaerdt/VanderSchoot & Touki Delphine
Tekst: Irma Driesen
A story
Ontdek de inspiratiebronnen bij Botanical Wasteland:
Donna Haraway
,
Ian Cheng
,
James P. Carse
,
Alberto Villoldo
,
Timothy Leary
,
Penney Pierce
,
Pierre Bastien
.
Er zit veel verscholen in Botanical Wasteland. Het werk is trippy. Alle aandacht gaat uit naar ontdekken wat je allemaal hoort en ziet. Een hand… doet wat? Wijdt een machine in met een veer? In wat voor mysterieus ritueel zijn we beland? Wat is de betekenis van al die handelingen?
Niels wereldt micro-tech-wereld
Je hoort wel tekst, of flarden tekst, maar wat precies gezegd wordt (er is een stem die spreekt) is niet altijd makkelijk te doorgronden
Toch is die tekst interessant.
Of liever gezegd, het feit dat een verhaal verteld wordt.
Zonder verhaal, geen wereld.
En om werelden maken gaat het in Botanical Wasteland, A world making practice.
- IT MATTERS WHAT STORIES TELL STORIES. DONNA HARAWAY
klik op de balk als je meer wil weten over inspiratiebronnen

The green field

Het begint vredig, deze trip, met een groen veld, en groene ballen die uit het universum vallen, zachtjes bouncen in het gras. Je krijgt alle tijd om rustig de camerabeweging te volgen. Waar zijn we? Het lijkt een gamewereld waarin we zometeen worden gedropt, maar waar is de actie? Een stem spreekt ons toe.
We zijn in een tuin, een simulatie.
- THINK OF A SIMULATION AS A VIDEOGAME THAT PLAYS ITSELF. IAN CHENG.
klik op de balk als je meer wil weten over inspiratiebronnen
The medicine way: the four winds
Botanical Wasteland bestaat uit vier episodes en een proloog. Elke episode wordt ingeleid met een song, die samen de vier windrichtingen aanroepen van het medicijnwiel dat Sjamanen gebruiken om te helen en transformeren. De vier richtingen, vier krachten, houden elkaar – 'het leven en alles wat is' – in balans. Botanical Wasteland begint in het zuiden ('where one goes to confront and shed the past').
Summer
To the winds of the South // Great Serpent // Wrap your coils of light around us // Teach us to shed the past the way you shed your skin // To walk softly on the Earth // Teach us the Beauty Way
Fall
To the winds of the West // Mother Jaguar // Protect our medicine space // Teach us the way of peace, to live impeccably // Show us the way beyond death
Winter
To the winds of the North // Humming bird // Ancient Ones // Come and warm your hands by our fires // Whisper to us in the wind // We honor you who have come before us // And you who will come after us, our children's children
Spring
To the winds of the East // Great eagle, condor // Come to us from the place of the rising Sun // Keep us under your wing // Show us the mountains we only dare to dream of // Teach us to fly wing to wing with the Great Spirit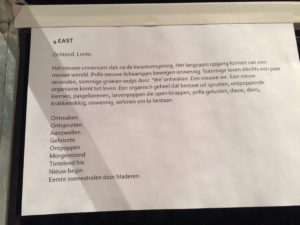 Zomer


Zinderende, trillende lucht. Vibraties. Een tuin op haar hoogtepunt. Niet een keurig lapje grond naast een huis, of ergens aan de rand van een stad. 'This is not a garden one lives beside, but a garden one lives within,' vertelt de stem.

- A PLACE OF GROWTH AND MAXIMIZED SPONTANEITY



klik op de balk als je meer wil weten over inspiratiebronnen

'One does not bring change to a garden
but comes to a garden prepared for change
and therefore, prepared to change'

Een rookmachine blaast rook, er klinkt een fluitje, een figuurtje met een masker, een sjamaantje, wast zich met rook. De tuin wordt aan het oog onttrokken. We kijken naar een dichte kooi.


Herfst


Tijd voor verandering. We zien Adam in de tuin. We horen over een slang, een vrouw, en een man. Dit oude verhaal gaat geofferd worden. 'We need to get rid of this story,' zegt de stem.





Adam

''We came for the evolution of consciousness,' zegt de stem.



- TODAY IS NO LONGER THE RESULT OF AN EARLIER INCIDENT. ALBERTO VILLOLDO.


klik op de balk als je meer wil weten over inspiratiebronnen
A consciousness-expanding experience


De trip kondigt zich aan. Het ego moet sterven om ruimte te maken voor nieuwe visioenen, nieuwe werelden, nieuwe characters, nieuw bewustzijn.
''Prepare to say goodnight to I.''



teach us to shed the past the way you shed your skin

'Float down into your bodily stream. Turn of your mind, relax and float downstream,' zegt de stem die ons probeert gerust te stellen.


-THE TIME HAS COME FOR YOU TO SEEK NEW LEVELS OF REALITY. TIMOTHY LEARY


klik op de balk als je meer wil weten over inspiratiebronnen


Laat je bewustzijn rustig meevoeren at the speed of light.

De trip wordt intenser. Characters, avatars, verschijnen en verdwijnen op het scherm, verscholen achter maskers, drinken spul, raken in trance. Het scherm zelf lijkt fluïde te worden, meerlagig, bewegend beeld beweegt in bewegend beeld, er zijn spiegels en dubbelingen, het duizelt. Er klinkt een krijsend geluid alsof een varken wordt gekeeld, het blijkt krakend ijs en de roep van walvissen. De sfeer wordt agressiever, wilder, hallucinerender. De bestaande wereld stort in.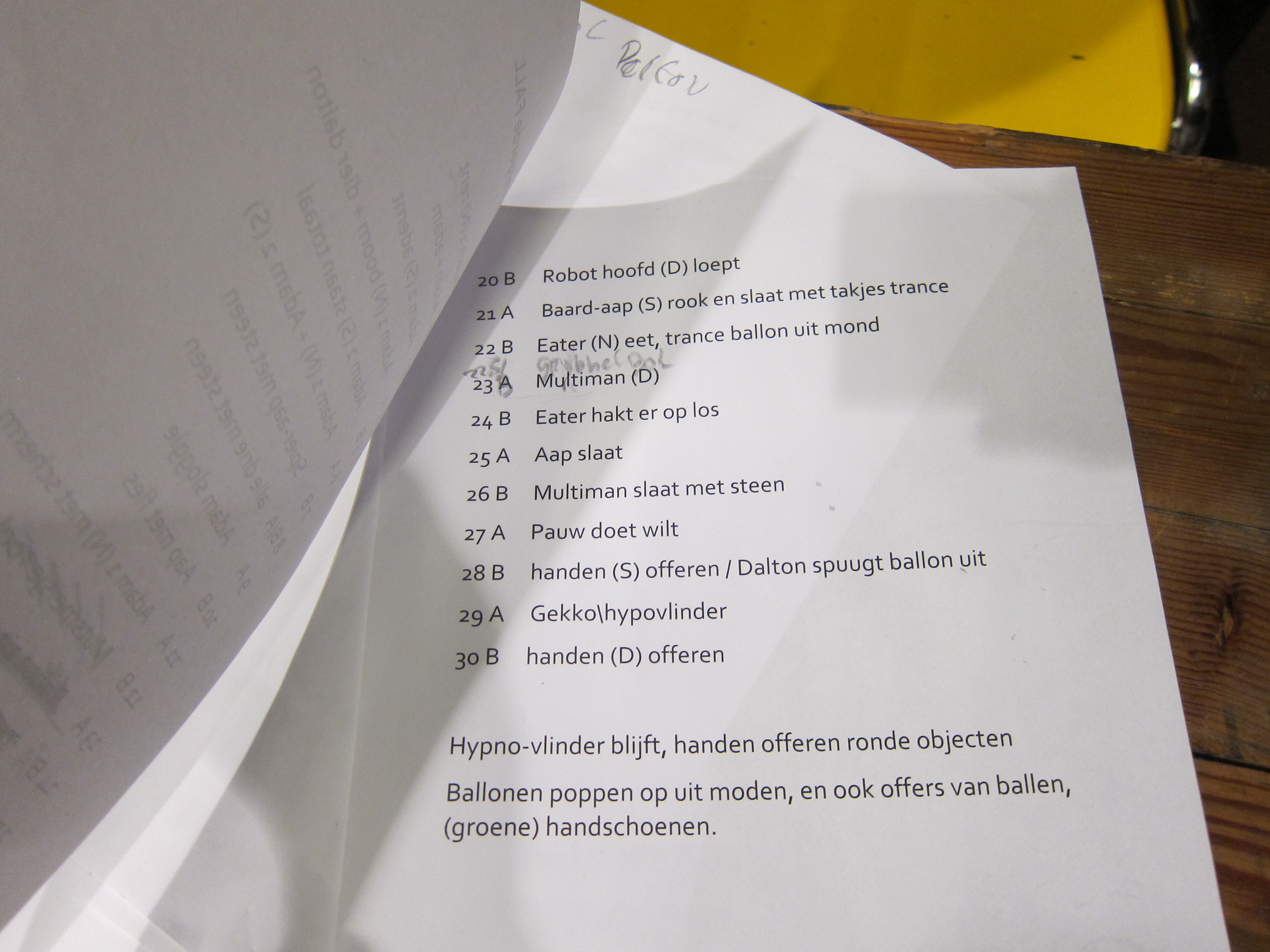 We zien steeds minder mensen, van mensen zien we steeds meer de dingen.


Winter


Dromerige sfeer. We glijden met de camera langs een tech-wereld alsof we onder water zijn. Rust. Stilte. Contemplatie. Incubatie. We zijn in afwachting van iets.

''Those tiny particles of matter are also waves of energy.

Terwijl we heerlijk rustig dobberen, legt de stem de quantum-theorie uit. Ze zegt dat in de wereld van ogenschijnlijk solide voorwerpen deeltjes vibreren en spinnen. En dat in die deeltjes subatomaire deeltjes bewegen.



-

THE REALITY THAT OCCURS IS THE ONE YOU GIVE ATTENTION TO. PENNEY PEIRCE




klik op de balk als je meer wil weten over inspiratiebronnen


We vallen als Alice door een gat en zoomen eindeloos in op gaten waardoorheen nieuwe werelden zichtbaar worden.
Het is donker. In het zwart horen we

''We are the miracle of force and matter,
making itself over into imagination and will.
The Life Force experimenting with form.
You for one. Me for another.
The Universe has shouted itself alive.
We are one of the shouts. (Ray Bradbury in Frequency)


honda civic, bouwjaar 1997
Lente


De schermen gaan open. Het is ochtend, het licht komt langzaam op. De tuin, een nieuwe wereld, ontwaakt.

Een symfonie klinkt.

De wereld wordt wakker geblazen.

Alles komt tot leven, autolampen, slangen, radio's.